Philosophy
Focusing on Real Comfort
Mission
Provide Genuine Comfort and Enrich People's Hearts
Vision
Continue to Be a Company that Makes the Impossible Possible
TAKAGI was established in 1930 as women's underwear manufacturer in Nara, Japan.
At that time, sanitary underwear was not distributed in Japan. The founder was determined to provide the world with genuine sanitary underwear that was comfortable to wear in such an era.
Since then, we have been pursuing comfort for people by developing and manufacturing functional underwear.
Moreover, we always remember to care about people, things, and the environment so that everyone involved with Takagi can always feel comfortable in a natural way.
Company Overview
| | |
| --- | --- |
| Company name: | Takagi Co., Ltd. |
| Founded: | May 1930 |
| Business Description: | Development, manufacture and sales of underwear |
| Office: | Nara and Osaka, Japan |
| Major Clients: | ISETAN, TAKASHIMAYA, Wacoal, etc. |
| Number of Employees: | 60 people |
| Capital: | 80 million JPY |
| Factories: | Japan (Nagasaki), Vietnam (Ho Chi Minh), and China (Qingdao) |
| CEO: | Mai Takagi |
Our Strength
TAKAGI products are produced in our own factories in Japan, Vietnam, and China. We provide the strict quality control in accordance with TAKAGI's quality standard in all of our factories.
Head office: Japan(Nara)
Factory: Japan (Nagasaki)
Factory: China (Qingdao)
Factory: Vietnam (Ho Chi Minh)
Materials
With a long history of in-house material development, we have achieved highly original product development.
For developing own materials, we start from selecting yarn then find the best way of knitting and dyeing for the plan and concept.
We also conduct basic physical property tests of materials in our own laboratory.
Design
Our in-house designers develop design that match the concept, age, and trends of our products. We believe that only when we have a high standard of master patterns, materials, and design, can achieve our company's commitment to manufacturing products that are comfortable for everyday use and value beauty as it is.
Patterns
We have our own pattern maker and pursue comfort. While many apparel companies develop products based on average body data, we repeatedly verify data from test users to create patterns that are appropriate for body types and ages. In addition, each material has its own characteristics, and developing patterns according to the material used leads to good comfort.
TAKAGI's Patents and Utility Models in Japan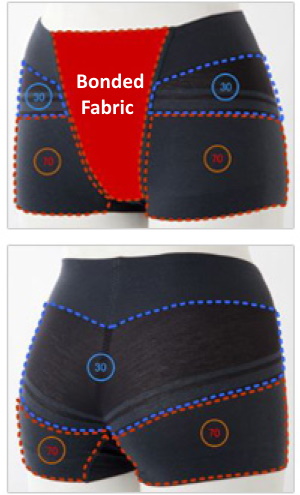 Powerful and Comfortable Girdle
Using two different denier fabric, 30 and 70 denier. The front of the girdle, using bonded fabric (a less elastic polyurethane sheet between two sheets of cotton blended fabric and crimped) to cover and shape your tummy. The back of the girdle, using different denier to lift your butt. Comfortable fit by putting different thickness and elasticity of fabrics together.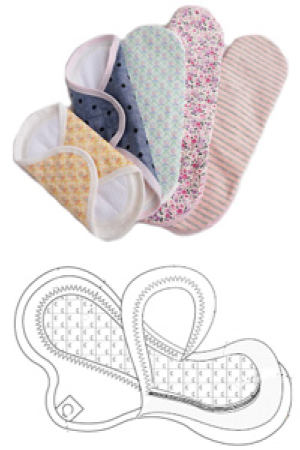 econap®
Original Cloth Napkins
econap® is a high breathable cloth napkins with excellent moisture permeability, but it's hard to leak. It's only 3mm thickness, so it's just like wearing your ordinary underwear. Original 4-layer quilt pad that is registered as the Utility Models in Japan, prevents leakage. Moreover, you can remove stain very easily. Using original Japanese waterproof fabric with excellent moisture permeability. It permeates moisture from about 180 to 210g per hour against the average of human moisture emissions is about 44g per hour. Reducing the unpleasant odor during menstruation with the deodorant-processed fabric.
We are currently looking for distributors for our private brands (ayame, AROMATIQUE, and bodyhints) all over the world,
including the Philippines, Indonesia, Singapore, and China. If you are interested in it, please contact us through the form in the above CONTACT.